About Ippolito Recording Company
Retired
Bio
Vince and Michele Ippolito, owners of Ippolito Recording / Production Company have relocated their Chicago Studio to Dixon Il. Vince has been in the recording industry for over twenty-five years.He started playing drums at the age of eleven. Vince formed and led his own band The Purple Cucumber which became PC Limited, then Happy Day by the age of seventeen playing on Rush street and in clubs and concerts throughout the midwest. At the age of eighteen he signed his first recording contract with Mercury records. As his career progressed he signed with Smash Records,MCA Records and Elektra Records. He performed with groups such as ABC News anchor Joel Daly & The Sundowners, Chicago, Ray Stevens, Roy Clark, Bob Seeger, Janis Joplin, Bobby Sherman, Chuck Berry, Paul Revere & The Raiders, Charlie Rich, The Kingston Trio, Styx, The Bellamy Brothers and Ronnie Milsap to name a few.
In 1970 Vince ventured out into producing commercials for Radio and T.V. with Bruce Bendinger and Roger Pauly. Since then he's produced T.V. and Radio commercials for The Chicago Transit Authority, Blue Cheer,7up,Uncle Bens Rice ,Oldsmobile,Nova Celluar,Popeyes Chicken, (with Fats Domino, Jerry Lee Lewis, Dr. John, and the Neville Bros.), Archway Cookies, Kraft Co., Ferrara Pan Candy (Chgo, Black Hawks),Tom Dreesen & Tim Reid, Leonas Restaurants, Consumer Electronics Show, Chicago Bulls, Betty Crocker, Bisquick, WHAS Radio & T.V., Eddy Schwartz Theme song for WGN radio,out takes for Wally Philips radio show, Dick Biondi (Hall of Fame), NFL Films.
Vince is in the Whos Who in America book. Member of American Federation of Musicians and served In The United States Air Force.
Vince and Michele compose and produce their own music for all types of media.Currently Ippolito is recording for independent producers and various groups.They have built a State of the Art Digital recording studio in the country with a 25x30 tracking room. They enjoy living in the country in Dixon, and recording singers,songwriters and bands.
Michele released her first Album "Mystic Moods" which charted at #7 on the New Age Charts, #1 on the Music Choice Soundscape Channel and Nominated for Best Ambient Album 2006 by the Zone Music Reporter.
Michele's CD "In The Clouds" was also Nominated for Best Ambient and Relaxation/Meditation album in 2010 by the Zone Music Reporter.
Michele's latest CD "Drifting In Dreams" was released 2012..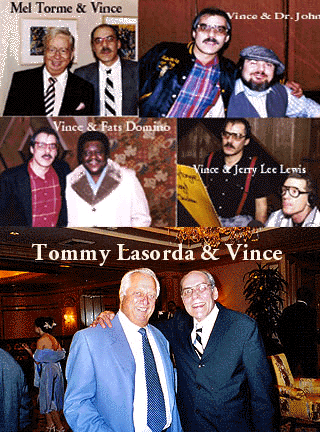 Vince also did studio recording with Donny Hathaway, Richie Cole, Dr. John, Jerry Lee Lewis, Fats Domino, and Phil Upchurch.Also having the opportunity to produce at Chess Studio's, Universal Studio's, Freddie Breitberg,(with Murray Allen,) Elektra Studio's in L.A, Cadillac Studio's in L.A., RCA Studios with Brian Christian (Pink Floyd The Wall engineer)Ultrasonic Studios and Allen Toussaint in New Orleans.He is a member of Chicago Federation of Musicians,Screen Actors Guild, Naras, and AFTRA.In 1993 co-produced a jazz album for Atlantic Records which featured original songs written by Sammy Cahn and also produced and played drums on a country album for Joel Daly and The Sundowners.